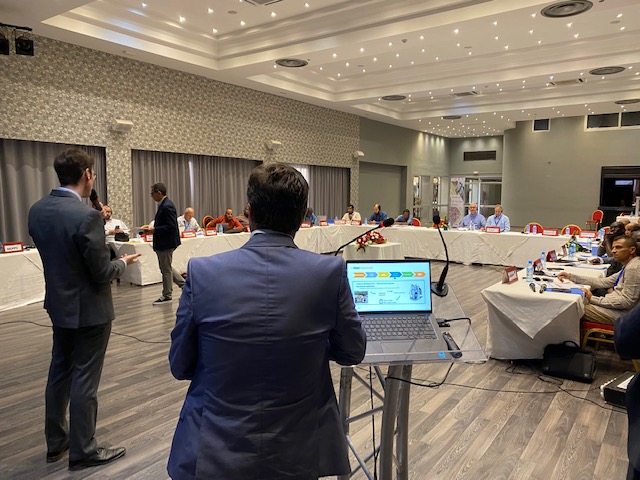 Last May, EV was invited by FAO to participate in an interregional training on the use of biopesticides for locust control. It was in these circumstances that the Group had the opportunity to present the company as well as one of its flagship products, Novacrid, and then was able to follow practical workshops alongside the various members of the training.
First, the Group's Managing Director Peter Braendle, as well as Noadya Monnier, R&D Manager, Lionel Legros, Business Development Manager Export, Mohamed Amin Ben Taarit, Key Account Sales Manager, and Elie Samson, also from the export department, gave a presentation of the company and Novacrid.
The latter had the opportunity to discuss with the different speakers – members of the different FAO commissions, and guests (in charge of locust management in several African and Middle Eastern countries) – and to answer their questions.
In a second step, a "germination test" workshop was organized by Said Lagnaoui. EV technicians performed germination tests to show participants how to verify that a sample is still working and has been well preserved.
Then, a second workshop on ULV calibration and spray testing was held at the CNLAA (Centre National de Lutte Anti Locust et Antiaviaire). A member of the FAO showed the different preliminary calibrations to be done before a ULV (ultra low volume) spraying, which is a particular technique recommended by the FAO for locust control because it is very efficient and economical in terms of water.
It was a very enriching experience for the Group, which was able to draw several lessons from it, such as working on storage and transport, and training countries in the use of biopesticides and ULV. But what has largely emerged is that FAO wants to continue to propose and develop metarhizium acridum as an alternative to conventional pesticides.